Author Laura Frantz is featured on the Seekerville blog today, talking about what makes a hero in fiction. Head on over for a lively discussion.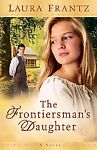 If you haven't read Laura's debut novel, The Frontiersman's Daughter, and you are a fan of historical fiction with vivid settings, complex characters, unpredictable plot and rich prose… whatever are you waiting for? From the TFD's cover:
This epic novel gives you a glimpse into the simple yet daring lives of the pioneers who first crossed the Appalachians, all through the courageous eyes of a determined young woman who would not be defeated. 
That young woman is Lael Click, daughter of a celebrated frontiersman, and I hope you get to meet her soon.
As for me, I'm eagerly awaiting Laura's second novel, Courting Morrow Little, releasing July 1, 2010.
You can find Laura blogging here. Hope to see you there!