It's Friday again. The house smells like fresh cleaned laundry, because I just got in from my weekly trip to the laundromat. I won't think about laundry again for a week.
It's been a good week of writing here at my new desk. Hope that bodes well. I wrote an entire chapter this week, a longish one (5000 words) from a new character's POV. Well, he's not new, but writing from his POV was. That makes three POV characters for this book, more than I had in KINDRED. We'll see if it works out well. In any case I enjoyed the challenge and think his scenes will add good texture to WILLA.
But on to important topics, like weather! Though my pal Karen Ball recently posted about it being Spring here in our valley (and truly it was, for a bit), those who predict such things are saying that Winter is poised to make a return visit. We may have snow on the valley floor early next week. While I welcome the much needed snow, my heart goes out to all those lovely blossoms I've enjoyed this past week, around town, in my own yard. Ah well.
But it's Friday, and I feel like giving a couple or three shout outs from the past week. The first goes to an inspiring blog post by author Athol Dickson, over at Novel Journey. He talked about beauty in writing, not just in theme or character or plot, but in the very words themselves. "The best friends of beauty in a novel are deep contemplation, honesty, intentionality, originality and love." You can read it here. Hope you will.
Athol also posted his thoughts on beauty in the American Christian Fiction Writers main email loop. If you're writing Christian fiction, and aren't a member of ACFW, you might just want to check them out. You can do that here. Lively craft discussions happen. It's a place to cheer each other on, or ask a research question, or get encouragement.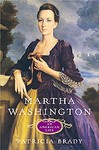 Last but not least, my week has been made extra special by a wonderful wonderful (wonderful!) little book recommended by my friend, author Laura Frantz. It's a book about Martha Washington. I've never been particularly interested in Martha's life, but after reading Laura's review of this book, I had to give it a peek. I'm SO glad I did. This book reads almost like fiction, it's so engaging and chock full of tactile, sensory, practical every day details about the lives of Virginia/Colonial planters' wives. If you have an interest in that subject, or in Martha Washington, or just want a vivid peek into the way things were in this country 250 years ago, don't miss Martha Washington, An American Life, by Patricia Brady.
I have a chapter to edit. Fun for me! Have a good weekend, all!