Two wonderful newly released historical novels landed in my mailbox today.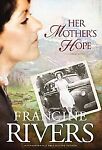 Here Burns My Candle, by Liz Curtis Higgs, and Her Mother's Hope, by Francine Rivers.
Got your copies yet?
For fans of Laura Frantz's debut novel, The Frontiersman's Daughter, be sure to check out Renee's blog on Thursday March 18 for a sneak peek at a scene from Laura's upcoming novel, Courting Morrow Little.
Lots of great fiction to look forward to this year. For now, I'm still getting over this no good very bad cold, so I'm going to fix a cup of tea and curl up this evening with my new books by two of my favorite authors.
Dilemma: how can I possibly decide which to read first?!