I thought I'd share this week the books I happen to be reading now. Between research, writing craft, fiction and audio books, there's always a stack of them in progress. Here's a snapshot of what I'm reading/listening to this week:
The Bloody Mohawk, by Thomas Wood Clarke — research
The Adirondacks, by Paul Schneider — research
Royal Escape, by Georgette Heyer — audio book
Hang a Thousand Trees with Ribbons, the Story of Phillis Wheatley, by Ann Rinaldi — fiction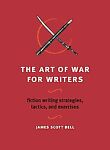 And the book I want to highlight in this post, The Art of War for Writers, fiction writing strategies, tactics and exercises, by James Scott Bell.
In the Introduction Bell writes, I still read books on writing. My philosophy is if I find just one thing of value, even if it's only a new take on something I already know, it's worth it. Anything that helps me become a better writer, I want to find. That's the spirit I hope permeates this text.
I'm halfway through this book, but didn't need to read that far to decide Bell's hope was met, and then some. The layout of the book is similar to a devotional, with short entries that take just a few minutes to read. I started with the intent of treating it like a devotional and reading one entry per day, but have found it impossible not to read several entries at a sitting. Yet some of the entries are so inspiring and chock full of instruction that I want to linger over them, read them over and over again until I have the words ingrained. Oh, the quandry!
Through The Art of War for Writers I'm learning new techniques to create page-turning fiction, as well as being reminded of techniques I already knew, but am not yet established in. We learn by repetition. I do, anyway. Sometimes all it takes is another writer saying the same old thing in a unique way to make it sink deeper into my understanding than surface knowledge, so that it becomes part of the fabric of my first draft writing, instead of something I go back and fix in later drafts.
Therefore I will not be negligent to remind you always of these things, though you know them and are established in the present truth. 2 Peter 1:12
Lastly in my personal devotions I've just finished 2 Corinthians and am heading into Galatians. A particularly inspiring verse from Chapter 9 got highlighted in this read through. And God is able to make all grace abound toward you, that you, always having all sufficiency in all things, may have an abundance for every good work. 2 Cor 9:8. That's a promise I long to see worked out in my life on so many levels, including as a writer.
Writing is so often a lonely pursuit, and writing for publication comes with a host of pressures and stresses. Pray for the writers you're linked to, that they may have an abundance of grace for every good work!