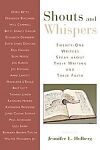 It's been a busy week so far (with our two cars and a Boy Scout van in the shop, two printers failing and a bathroom switch to replace, among the regular business), and I've been meaning for some time to share a quote from a book I'm reading now, Shouts and Whispers, Twenty-One Writers Speak About Their Writing and Their Faith.
Of the twenty-one authors I was familiar with only four, Walter Wangerin Jr., Jan Karon, Silas House, and Anne Lamott. I'm only halfway through the book. Some of the writings are dense, deep, intellectual, and frankly stretching to my simple brain, but in each so far has been a nugget of truth that has resonated. Here's one such from Jan Karon, author of one of my favorite fiction series, At Home in Mitford. Her words express my own heart as a writer:
I also write to let readers know something I learned for myself in a very personal way, nearly twenty-five years ago. And that is simply this: God really does love us. That's the kernel around which all my stories are wrapped. It's the single greatest truth I know and so, I share it in book after book….

There isn't any way I can't write about Christianity in my books because by it, I see everything else. Consider that a cup of coffee is the human individual and the shot of brandy is the Christian faith. One pours the brandy into the coffee, and voila! they can't be separated again. They can't be separated. My faith can't be separated from my work. Even if I never mention the name of Jesus Christ, I can't hide from you who I am and what I'm about as an author. In truth, the work that has no faith is, for me, not a whole work. It may be an amusing or credible or clever work, but not a whole work.
Jan Karon, The Miracle and the Myth
Does that ever tug a Amen from my soul, and leave me feeling both comforted and vulnerable as a writer. I don't have to strive to work hope or grace or redemption into my stories. Because of what I believe (and Whom), and who I am at my core, those things will find their way into the stories I write. On the other hand, what I believe and who I am at my core are going to find their way into the stories I write.
Yikes! There's no hiding me.
Speaking of Mitford….
Once upon a time, my friend Doree and I took an epic road trip from Wisconsin to Tennessee (and back again). On that trip we visited Blowing Rock, North Carolina, which was the inspiration for Jan Karon's Mitford series.
This is a photo of "Father Tim's" church, taken by Doree while I minded our not quite legally parked car on Mitford's Blowing Rock's bustling main street.
What fun it was to visit Blowing Rock after having read (or in my case listened to) the Mitford books (read by the extraordinary John McDonough). The resemblance to Mitford is so strong, I expected Barnabas to come bounding up and put his paws on my shoulders, or to see Uncle Billy coming up the sidewalk, heading for the Main Street Grill, rehearsing one of his famous jokes.