Congratulations to Doreen, winner of Laura Frantz's historical novels!!
The interview is still up and I'm still checking back for comments/discussion, so please drop by if you can.
Keli Gwyn at Romance Writers on the Journey blog has posted an interview I did with her here, where I talk about my writing journey… some speed bumps in the road, a roadblock or two, a detour, and finally…. a green light.
Come on over and leave a comment. Doing so will enter you in the drawing for two wonderful historical novels, both by Laura Frantz.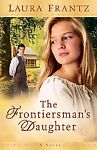 Her debut historical, The Frontiersman's Daughter: Lovely and high-spirited, Lael Click is the daughter of a celebrated frontiersman. Haunted by her father's ties to the Shawnee Indians and her family's past, Lael comes of age in the fragile Kentucky settlement her father founded. As she faces the many trials of life on the frontier, Lael draws strength from the rugged land. But the arrival of a handsome doctor threatens her view of her world, her God, and herself. Can the power of grace and redemption break through in this tumultuous place? This epic novel gives you a glimpse into the simple yet daring lives of the pioneers who first crossed the Appalachians, all through the courageous eyes of a determined young woman who would not be defeated.
And her new release Courting Morrow Little: Morrow Little is haunted by the memory of the day her family was torn apart by raiding Shawnee warriors. Now that she is nearly a grown woman and her father is ailing, she must make difficult choices about the future. Several men–ranging from the undesired to the unthinkable–vie for her attentions, but she finds herself inexplicably drawn to a forbidden love that both terrifies and intrigues her. Can she betray the memory of her lost loved ones–and garner suspicion from her friends–by pursuing a life with him? Or should she seal her own misery by marrying a man she doesn't love?This sweeping tale of romance and forgiveness will envelop you as it takes you from a Kentucky fort through the vast wilderness of the West.