Yesterday I finished reading Laura Frantz's new historical, Courting Morrow Little. As I mentioned in my last post, the book's back cover promised a "sweeping tale of romance and forgiveness." Now I can tell you, it most certainly delivers on that promise. Both the romantic and spiritual threads and themes in this novel are powerful. Morrow also delivers a setting so vividly rendered I felt like I was walking the forest trails, crossing the rivers, and scaling the ridges and mountains, feeling the cold and the heat and marveling at the fierce beauty of the frontier terrain these characters cross and recross in the course of this story. Morrow's journey is one of faith and overcoming fear, and as for the man who ultimately wins her heart… he got mine too. I read this book over three days, which is fast for me. I took it everywhere and read it in every spare moment I had. I love that tension of wanting to devour a book yet not wanting it to end. It comes so rarely. Thank you, Laura, for the years of work that went into writing Morrow's story, so I could have three wonderful days of reading it. This is a book to return to and savor. And I certainly shall.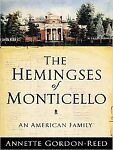 I'm also reading a huge 800+ page tome about Thomas Jefferson and the Hemingses, by Annette Gordon-Reed, which delves into exhaustive detail and lots of speculation about Jefferson's relationships with his slaves. I don't think I could have waded through this work, as fascinating as it is for my research, if I hadn't got it on audio. There's a lot of repetition, but given the vast amount of information packed into this volume, this reader is glad for the repetition. Makes absorbing it a bit easier.
I've started Spunk & Bite, A Writer's Guide to Punchier, More Engaging Language, by Arthur Plotnik (yes, really). I've read the Introduction and already know that I should have read this book a long time ago. It's going to be fun.
Better late than never.
And I've read the first chapter of Siri Mitchell's historical, She Walks In Beauty. It's not a time period or setting I'm normally that interested in (late 1800s, upper class folk), but Siri's writing is wonderful and will likely draw me in soon anyway.