Okay, not really in their footsteps. Actually we jumped ahead and met them at the end of their 4000-mile trek across the Louisiana Territory, what would become the states of Missouri, Kansas, Nebraska, Iowa, South Dakota, North Dakota, Montana, Idaho, Washington, and Oregon.
My husband and I took a four-day road trip north from southern Oregon, winding up where Meriwether Lewis and William Clark, and the rest of the Corp of Discovery–31 in all–wintered from December 1805 to March 1806 after their trek to the Pacific Ocean, on the Netul River (now the Lewis and Clark River). Here they built Fort Clatsop, named in honor of the local Native American tribe. There's a reconstruction of the fort, fully furnished, with living history programs and rangers on hand to answer questions.
Inside this room (above & below photos), the Captains' quarters, we had an enjoyable conversation with a park interpreter, a woman who shares our love for late 18th and early 19th century history, particularly (of course) Lewis & Clark and the Corp of Discovery.
It was also a lovely break from our southern Oregon high desert heat, under the cloudy canopy that so often blankets the northwest corner of the state, with the cool ocean breeze coming off Youngs Bay, at the mouth of the Columbia River. It wasn't so pleasant for the Corp of Discovery, who complained that out of the 106 days they spent there, it rained all but twelve. Clothing rotted. Colds and flues abounded. Fleas were bad. I was not inclined to complain about the intrusive noise of the stairwell and elevator right outside our hotel room that night.
I poured over all the period artifacts in the interpretive museum on site, happy to see some of the equipment my 18th century naturalist, Neil MacGregor, would have used as well, or things that Willa would have in her cabin, like the bullet mold I have her using in a recent scene, to replenish her store of musket balls after another character uses her musket for target practice, and practically empties her shot pouch.
We enjoyed watching a short film narrated by a Clatsop woman, whose direct ancestor was one of the tribe who lived nearby the fort during the winter the Corp of Discovery stayed there. If you get the chance, I highly recommend a visit to the reconstructed fort. I've visited various points along the L&C route, most memorably the Lolo Pass area in the Bitterroots of Montana, but I dream of one day retracing the entire route.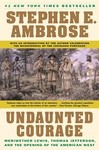 On the trip there and back, we listened to an audio version of Stephen Ambrose's Undaunted Courage. This is a must read for anyone interested in learning more about Lewis and Clark. It's inspired me to read their journals, so those are next on my list of research material. Listening to this book inspired my husband, a Boy Scout troop master, to have his troop members keep a journal on their next week-long outing into the mountains, in the style of Lewis & Clark.
A few more photos from our long weekend:
The Octopus Tree, Tillamook, OR.
Sitka Spruce normally have a single straight trunk. I'd probably look like this too if I lived on that windy headland.
We had some awesome sunsets!