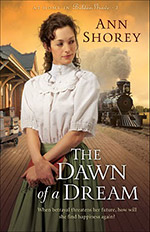 The Dawn of a Dream
Ann Shorey
Revell, 2011
From the back cover: Luellen O'Connell is stunned when her husband of just one month tells her he is leaving–and his reason devastates her. Deeply wounded by his betrayal, Luellen decides to follow her dream to become a teacher, a desire she had set aside when she married. But can she truly hide her past? Or will it destroy her ambitions forever?
Beldon Grove, Illinois, 1857
From the first chapter of The Dawn of a Dream I was swept up in Luellen's plight after her husband turned out to be a no-good scoundrel, and my empathy was with her as she had to face her kin and community at a particularly testing time in her extended family's life. Enter the hero, Ward Calder, an Army officer and friend of Luellen's brother, Franklin, who strikes just the right note of support, chivalry, and respect to earn the reader's (and Luellen's) gratitude.
Luellen's dream of earning a teaching certificate, put on hold during her brief marriage, comes to the fore again, despite several daunting obstacles she must overcome or learn to live with in order to see this happen–including the haunting shameful secret of her failed marriage.
Secondary characters encountered along the way included Belle, Luellen's friend at the teaching college she attends. Another secondary character, introduced later in the book, is Leah. I found her story particularly compelling and woven skillfully into the major storyline, but will forbear any spoilers about this character. She's best served up fresh.
Luellen's story is set against a college experience, and training to become a teacher, a refreshing change from the usual new-to-the-school-house experience most often found in books about young women of the mid-1800s who want to be teachers. College for women was an aspect of the 1800s I knew nothing about, but a reader learns a lot almost without realizing it, while being absorbed in the challenges and new experiences Luellen and Belle face. Luellen's determination is tested on every side, even by loved ones who misunderstand her, yet her true calling and gifting as a teacher shines through. The classroom scenes where Luellen learns to interact with young students were some of my favorites.
Though Ward and Luellen are often separated for long stretches of time, Ann Shorey keeps up the tension in their slow-burning relationship by bringing them together at key points. Ward, a man of honor and self-contained strength, is following his own dreams and career path in the Army, but he can't forget Luellen, as she can't forget him. But can the "once burned, twice shy" Luellen ever trust a man again?
Ann's vivid descriptions made the story come alive for me. Often as I read a historical I long for more description, or to better see (and smell and hear and taste) the scenes than what is offered on the page, as if the settings are skimming over, instead of delved into. I didn't have that problem once with
The Dawn of a Dream
. And there are plenty of unexpected story twists from beginning to end. Just when I thought things were finally settling down and I could predict what was coming next, Ann threw another curve ball.
If you haven't read the previous two books in the Beldon Grove series, it won't hurt to start with this one. The Dawn of a Dream focuses on the daughter of the main character of the first book, The Edge of Light, but the story stands on its own.
Ann's website: http://www.annshorey.com/index.html
_________
I finished reading The Dawn of a Dream late last Friday night, and on Saturday Ann Shorey had a book signing at our local bookstore. Before the signing Ann and I met for lunch nearby, in company with several other writer friends. It was great to connect with Ann again, talk about her book, her upcoming series with Revell, and of course about the writing life. While the Mount Hermon Christian Writers Conference was happening down near Santa Cruz, we had our own mini writers conference at the local mall, and I left feeling buoyed in spirit and richer for having had that time to share with kindred souls. It happens far too infrequently for this stay-at-home hermit of a writer.
I'll leave you with a few pics from the day, and encourage you to check out Ann's At Home in Beldon Grove series, The Edge of Light (Kindle addition presently available free from Amazon) The Promise of Morning, and The Dawn of a Dream.
This photo of the group who met for lunch (minus Linda, who had to leave early) courtesy of Ann Shorey.