Well, technically I don't write Colonial American fiction, but I do write fiction set in the late 18th century, which is pretty close. And if these nudgings and whisperings from characters in the wings mean what I think they mean, after my current work in progress is finished I'll be writing a story set during the Revolutionary War, which is even closer.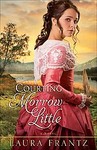 Over at Colonial Quills, historical writers are discussing why they write colonial fiction, among them Laura Frantz (author of The Frontiersman's Daughter, and Courting Morrow Little).
Come on over and visit.
I chimed in with this:
I'd love to claim an abiding interest in early American history as the catalyst for choosing this time period to write about. But the truth of it is, when I had a story idea back in 2004 that took place on a Piedmont plantation, had to do with slavery issues, and happened well before the Civil War, I chose the 1790s over an early 1800s time period for the sole reason that I wanted my male characters to wear knee breeches, not trousers. I'd seen the movie, The Patriot, and found that particular clothing item of the 18th century most fetching. 🙂
Now, all these years of writing and research later, I believe a more profound guidance was at work as well. I've fallen madly, obsessively in love with the 18th century (particularly the Revolutionary and early Federal eras) and the ideals, conflicts, failures, and triumphs of that generation of frontiersmen, warriors, farmers, slaves, and natives. I can't get through the research for one story without stumbling across an account of some happening so intriguing and adventuresome and daring that a new story idea explodes across my mind like popcorn over a fire. I don't think we've more than scratched the surface yet.