Today I'm not in St. Louis attending the American Christian Fiction Writers 2011 Conference, like so many of my writer friends and colleagues. I'm not attending the awards banquet this evening, when the winners of the Carol Award and the Genesis Contest will be announced.
Instead I'm endeavoring to finish the final chapter of Tamsen and Jesse's story, The Pursuit of Tamsen Littlejohn. Not the final chapter or scene that needs to be written. I skipped a few scenes along the way, knowing I'd come back to them. But it is the final couple of scenes of the story. I've been hunkered down since February, weaving this tale. It's exciting to be so near The End, but more on that in an upcoming post.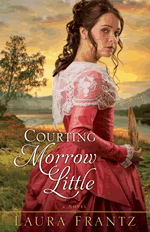 At 4:30pm (Pacific time) I'll take a break to watch the live feed of the Carol Awards and Genesis Contest Awards. So many of my writing friends are there attending. While I'm happy to be home alone writing today, I feel a bit wistful to be missing the chance to mix and mingle.
My crit partner Laura Frantz's historical, Courting Morrow Little, is up for the Carol Award for historical fiction. It's a wonderful book set on the 18th century Kentucky frontier with a powerful theme of forgiveness, and well worthy of such recognition. I'm rooting for you, Laura!