I'm kicking off 2012 on the blog by posting the books I read, fiction and nonfiction, over the past year. This is the second year I've kept a record of my reading, and while I didn't read as many books in 2011 as I did in 2010, still it's a pretty respectable list.
I could have created about a dozen categories in order to include all my "favorites" from the year. Instead, I'm only going to pick one novel and one book of nonfiction, and explain why that book had an impact on me, why I'm still thinking about it weeks, maybe months, later. But first the whole list:
Fiction
1. The Land Breakers, by John Ehle
2. The Shape of Mercy, by Susan Meissner (audio)
3. The Guernsey Literary and Potato Peel Pie Society, by Mary Ann Shaffer and Annie Barrows (audio)
4. The Preacher's Bride, by Jody Hedlund
5. To Say Nothing of the Dog, or How We Found The Bishop's Bird Stump At Last, by Connie Willis (audio, narrated by Steven Crossley)
6. Jane and the Unpleasantness at Scargrave Manor, by Stephanie Barron
7. Christmas with Tucker, by Greg Kincaid (audio)
8. Maid to Match, by Deeanne Gist
9. Beastly, by Alex Flinn (audio)
10. The Capricorn Bracelet, by Rosemary Sutcliff
11. The Dawn of a Dream, by Ann Shorey
12. Mine is the Night, by Liz Curtis Higgs
13. Lady in Waiting, by Susan Meissner
14. Love Amid the Ashes, by Mesu Andrews
15. Cottonwood Whispers, by Jennifer Erin Valent
16. Sign-Talker, by James Alexander Thom
17. Catching Moondrops, by Jennifer Erin Valent
18. Jane and the Man of the Cloth, by Stephanie Barron
19. Warrior Woman, by James Alexander Thom
20. Who Comes to King's Mountain? by John Louis Beatty & Patricia Beatty
21. The Warrior's Path, by Louis L'Amour 
22. The Hiding Place, by Corrie Ten Boom 
23. Waterfall, by Lisa T. Bergren
24. Cascade, by Lisa T. Bergren 
25. The Man with the Silver Eyes, by William O. Steele 
26. Wayah of the Real People, by William O. Steele 
27. Cherokee Dragon by Robert Conley
28. Long Knife, by James Alexander Thom 
29. Torrent, by Lisa T. Bergren 
30. Year of Wonders, by Geraldine Brooks (audio) 
31. Ransome's Quest, by Kaye Dacus 
32. Caleb's Crossing, by Geraldine Brooks (audio) 
33. Flaming Arrows, by William O. Steele 
34. Love Remains, by Kaye Dacus
35. Tomahawk Border, by William O. Steele 
36. The Buffalo Knife, by William O. Steele
37. The Year The Swallows Came Early, by Kathryn Fitzmaurice (audio) 
38. The Year of the Bloody Sevens, by William O. Steele 
39. The Rose Garden, by Susanna Kearsley 
40. The Children of First Man, by James Alexander Thom 
41. The Colonel's Lady, by Laura Frantz 
Nonfiction
1. The Art of Subtext, Beyond Plot, by Charles Baxter
2. Boston 1689-1776, by G. B. Warden
3. America's First Western Frontier: East Tennessee, by Brenda C. Calloway
4. Nancy Ward, Cherokee Chieftainess, Dragging Canoe, Cherokee-Chickamauga War Chief, by Pat Alderman
5. The Wataugans, by Max Dixon
6. Trail of Tears, by John Ehle
7. Blue Ridge Range, The Gentle Mountains, by Ron Fisher
8. The Cherokee, by Barbara A. McCall
9. Cherokee, by D. L. Birchfield
10. The Cherokees, by Eileen Lucas
11. The Cherokee Nation: Life Before the Tears, by Madeleine Meyers
12. Cherokee History, Myths and Sacred Formulas, by James Mooney
13. The Melungeons: The Resurrection of a Proud People, by N. Brent Kennedy
14. Melungeons Yesterday and Today, by Jean Patterson Bible
15. The Sisters of the Sinai, by Janet Soskice
16. American Colonies, by Alan Taylor
17. Boone, A Biography, by Robert Morgan
18. The Art and Craft of Writing Historical Fiction, by James Alexander Thom (forgot to add this one when I actually read it a few months ago… thanks Caroline for jogging my memory!)
Sign-Talker by James Alexander Thom was the sixteenth novel I read this year, so it was likely sometime back in the spring when I finished it. I haven't stopped thinking about it, or about George Drouillard, the French/Shawnee hunter and interpreter Lewis and Clark hired (Dec 1803) to accompany them on the journey to the Pacific Ocean in 1804. This is the story of the entire journey of the Corps of Discovery told from Drouillard's point of view. The story continues past the Corps' return, to the years Drouillard spent as a fur trader in the beautiful untamed Yellowstone country he fell in love with on his travels with the captains. Of him Lewis wrote: A man of much merit; he has been peculiarly usefull from his knowledge of the common language of gesticulation, and his uncommon skill as a hunter and woodsman; those several duties he performed in good faith, and with an ardor which deserves the highest commendation. It was his fate also to have encountered, on various occasions, with either Captain Clark or myself, all the most dangerous and trying scenes of the voyage, in which he uniformly acquited himself with honor.
By the time I'd finished this novel I agreed with Lewis's assessment, and it was terribly hard to turn that last page of the book. I'm now reading a biography of the man, George Drouillard: Hunter and Interpreter for Lewis and Clark and Fur Trader, 1807-1810, by M. O. Skarsten. I've read many books and watched many documentaries about the Corps of Discovery, but now when I think of that journey it's Drouillard who comes to mind first, not the men who led the expedition.*
* Sign-Talker is a mainstream historical novel. Life on the American frontier was often brutal, and this book doesn't shy away from portraying it as such.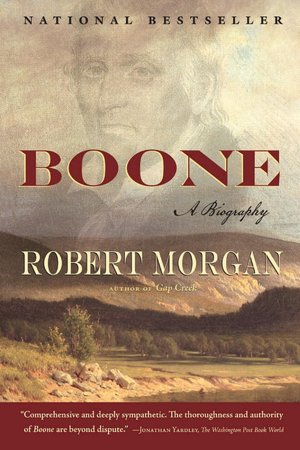 Unlike Sign-Talker, I finished Boone, A Biography, by Robert Morgan yesterday, just under the wire for it to be included in my 2011 list. This book was read for writing research, and I devoured it as I would have a page-turning novel. Perhaps it's because Morgan writes fiction too that his biography of the frontiersman Daniel Boone reads like a novel. Although Daniel Boone himself may never wander into any of my stories (I'm not saying he won't), I've learned more about the mid to late 18th century frontier settlement from this one book than many others put together, and it's given me many possibilities for one of the new stories that have been simmering on a back burner in my head, and which I plan to plot out in the coming weeks.
I've decided I could happily spend the rest of my days reading such works of history as Boone, A Biography, gleaning little nuggets to work into my own fiction, and live a contented life.


I hope you read some good books in 2011 too. Did you have a favorite novel, or work of nonfiction? Feel free to share about them in the comments. It's from such comments that I find many of the books I end up loving too.
So here's to 2012, and all the books yet to be written, read, and savored!