… Just ain't happenin'!
Copy Edits for Burning Sky arrived today and work on them is underway. But a writer has to take a break sometime, and when I do here's what I'm reading:
Love In A Broken Vessel
Mesu Andrews
Revell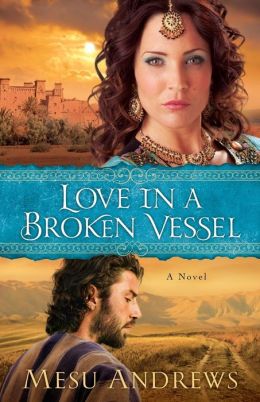 An Epic Journey of Intimacy, Rejection, Betrayal… and Hope.
God gives Hosea a difficult command–marry a prostitute in order to show God's people the nature and depth of His love for Israel. When Hosea goes to Israel to proclaim the Lord's message, the woman God directs him to marry turns out to be his childhood friend Gomer. He finds her broken and abused, unwilling to trust Hosea or his God. But when marrying Hosea becomes her only means of escape, Gomer does what she's good at–she survives. Can Hosea's love for God and God's love for Israel restore Gomer's broken spirit?
With her powerful combination of in-depth research and masterful storytelling, Mesu Andrews brings to life one of the most complex and fascinating stories of love and forgiveness in the face of utter betrayal.
Mesu Andrews is the author of Love Amid the Ashes and Love's Sacred Song. Winner of the 2012 ECPA award for Best New Author, she is an active speaker who has devoted herself to passionate and intense study of Scripture. Harnessing her deep understanding and love for God's Word, Andrews brings the biblical world vividly alive for her readers. She lives in Washington.

Mesu Andrews talks to Novel Crossing about Love In A Broken Vessel
Love In A Broken Vessel at Amazon
Love In A Broken Vessel at CBD