Did you know that my literary agent, Wendy Lawton, is also a published writer? She has a wonderful series of historical fiction, Daughters of the Faith, based on the lives of real young women, written for the middle grade market (8-12).
Though I'm far more middle-aged than middle grade, I enjoy them too! I've read several, but have just come across another that looks right up my reading alley.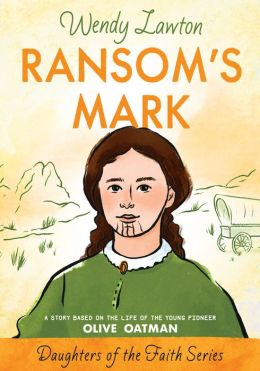 Ransom's Mark
When 13-year-old Olive Oatman's wagon train is raided by outlaw Yavapai
Indians, she and her sister are captured. After enduring harsh
treatment, they are ransomed by a band of Mohaves. Olive struggles to
adjust to her new life, but finds comfort in her faith and in an
unexpected friendship. When the time comes for her to return to the
white world, she is afraid she will never fit in. But she learns to see
the Mohave design tattooed on her chin as a sign of God's love and
deliverance, a mark of ransom.
Publishers Weekly said: Like its predecessors in Lawton's Daughters of the Faith series, this fourth installment offers an invigorating blend of historical information and imaginative writing.
I'd seen photos of Olive Oatman, with her striking facial tattoo, online in past years, and have been curious about her story. I just didn't realize until today that Wendy had written a book about her. Now I can't wait for my copy to arrive, and learn more.
If you're a fan of historical fiction, I hope you'll check out Wendy's books. Here's a link to her website, which lists all the titles. There's one or two more I've yet to read that have caught my eye already.
While you're visiting her website, check out her Dolls page. Yes, Wendy has been a doll maker too! She created beautiful dolls of several of her Daughters of the Faith heroines.